Expectant parents with multiples
Accompanying the book "Zwillings- oder Mehrlingsschwangerschaft und -Geburt" for medical specialists and midwives (Berlin, de Gruyter Verlag 2021):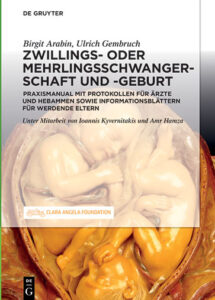 we would also like to provide relevant information to expectant parents with multiples.
This is important because multiple pregnancies have increased in recent decades, but also because optimal support requires not only special knowledge and expertise of physicians, but also adequate education of mothers. This applies from the start of pregnancy to delivery and the period after the birth ofmultiples.
Consecutively, selected aspects are also compiled as information templates that can be printed and discussed with one's own health care provider. Contexts for the mentioned periods are explained in understandable language and hints for practice are given.
At the beginning of pregnancy, it is essential that the membrane status is documented in the maternity records by ultrasound, because this is the basis for further surveillance and support.
Our topics:
PRECONCEPTIONAL
DURING PREGNANCY
PRENATAL DIAGNOSTICS                                            
General surveillance
Special aspects in monochorionic multiple pregnancy
Fetal growth
Malformations
MATERNAL STRESS 
MATERNAL WEIGHT AND WEIGHT GAIN
GESTATIONAL DIABETES
THREATENING PRETERM BIRTH
PRE-ECLAMPSIA
SPECIAL RISKS AFTER ARTIFICIAL REPRODUCTIVE TECHNIQUES
DELIVERY                                                                             
VAGINAL BIRTH OF MULTIPLES 
CESAREAN DELIVEY     
IMMEDIATE CARE AFTER DELIVERY
FIRST YEAR AFTER THE DELIVERY
PARENTAL STRESS
FOLLOW-UP
BREASTFEEDING
MULTIPLE REGISTRIES