Greetings, expectant parents with multiples!
We are happy that you have found us. If you follow this text down, you will learn some things you can hopefully use about your pregnancy and parenthood. You will also find information material to print out, which you can discuss with your treating medical staff.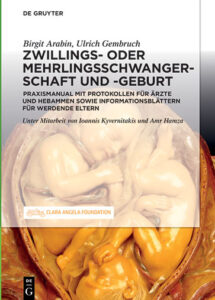 Accompanying the book "Zwillings- oder Mehrlingsschwangerschaft und -Geburt" for specialists and midwives (Berlin, de Gruyter Verlag 2021), we would also like to provide expectant parents with multiple births with appropriate information. This is important because multiple pregnancies have increased in recent decades and because optimal support requires not only special knowledge and expertise of doctors, but also adequate parent education. This includes the entire pregnancy, birth and also to the period after the birth of your children. We have also compiled selected aspects for expectant mothers as information forms. Please discuss with your doctor whether he/she wants to discuss the information with you. Correlations for the mentioned time periods are explained and hints for practice are given.
.
Our topics: are currently limited. We are open to further suggestions and corrections to bine.clara.angela@gmail.com .